Everyone needs backups
Everyone who uses a computer should understand about BACKUPS.
If you work in an account on a multi-user unix or linux system, your system administrator is providing the service of making regular backups of all files you have stored on that account. This is automatic, without any action on your part. In the event you erase the wrong file, just contact your system administrator about getting data restored.
If you use Windows, MacOS, or a desktop installation of linux, any data you store locally on your desktop PC or laptop is NOT backed up automatically by itself, unless you specifically set this up. It is incumbent on you to act. Know what options you have to protect your valuable files. Don't let this slide, like a difficult New Year's resolution! Find out if there is any central service available for you to use for backups.
If there is, USE IT. If not, MAKE YOUR OWN.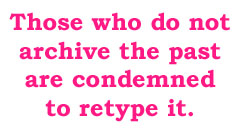 How to make your own backups
You have many options for backing up your own data.
Copy small files to floppy diskettes. Obviously this has severe limits for large documents, but if you type a few text files or even simple Office documents (Excel, Powerpoint without a lot of images) they might fit on floppies.
Write your files to a CD-R. This requires that your PC have a CD writer. If you don't have one, consider getting one. Prices start at just $40 now (yes!) and installation is simple. If your tower PC has a plain CD drive and no space for more drives, you could replace the CD with a CD-R/RW since these also let you read or play any kind of CD. A CD can hold up to 700 MB of data. CD-R media is "write-once"; you can also buy CD-RW media that is eraseable for re-use many times. For even more capacity, there are now DVD writers as well, starting around $55. One DVD-R disk can hold up to 4.7 GB.
Copy your files to a network file server where you have an account. This could be a linux system, a Windows share, or anywhere you can send files over the network.
Use a removeable USB "flash" memory key. These just keep declining in price and increasing in capacity. Many people find these tiny devices ideal for carrying the latest version of current work between office and home. They also allow you to take data for a presentation at meetings or conferences. Virtually all recent laptops and desktops have a USB port.
For a bit more money, you can buy an external hard drive, with either USB or IEEE1394 ("FireWire") connection, according to what connectors your PC has. For USB, insist on USB 2 for best transfer rates. If your PC only has USB 1, add a USB 2 PCI expansion card.
If you just can't get a CD-RW or DVD-R drive in your PC, then borrow or get occasional use of a portable external backup drive. Some groups have purchased portable USB2 CD-RW or even DVD-R drives. If you have Windows XP, most devices should automatically appear when you connect their USB cable (no need to shut down first). A few models may require a one-time installation of a software device driver. It is best to use USB 2.0 to get reasonable transfer rates. USB 1 will work, but is much slower. If your PC only has USB 1, see about adding a USB 2 PCI expansion card.
Backup Software
You may not need any special software to make backups to read-write devices like memory stick, external hard drive, or a server volume. You can simply drag-and-drop files or folders to the backup volume to copy them.
For recordable CD-R or DVD-R, you need software that lets you gather a list of what files to write, then insert the blank media and start the writing or "burning" process to run all at once. In Windows XP you can do this simply by dragging icons to the recordable drive. Windows will then indicate that you have files waiting to be written to CD-R / DVD-R; you insert the blank media and click the command to "Write files to removeable disk"
There are also separate programs for writing to CD-R / DVD-R, including commercial titles such as Nero and Toast, often bundled with add-in CD-RW and DVD-R drives. There are also fine freeware titles such as Burn4Free and CDRecorderXP. Some may find these tools have nicer interface for organising files when queueing them to be written to recordable media.
Finally there are software packages specific to making a full or incremental backup of all data or all recent changes on an entire desktop system. These can spread backups across multiple disks when there is more data than will fit on one backup disk.
Archiving
Whatever method and media you use to make backups, be sure to retain more than one past set of data. Don't use a single erasable media to write new backups over your only prior backup, in case the new data you are backing up turns out to be corrupt. Ideally, you'd like to have several recent copies of any crucial data such as your thesis, research data and papers or presentations you are writing. With CD-R and DVD-R media costing so little now, anyone can afford to make regular archival backups and retain the copies for safe keeping. Make sure to label your backups with the date and contents. Periodically store some archival media away from your computer, in case of fire or theft. Back to main page