Taking Public Transit (The "TTC")
The Toronto Transit Commission operates an efficient and safe public transit system of subways, streetcars (the "Red Rockets") and buses. On the map, TTC subway stations are marked as small yellow circles.
If you are going to be switching routes (e.g., subway to streetcar), get a transfer from the driver when you board or a dispensing machine after you enter the subway station. For buses and street cars you must have EXACT CHANGE, tickets or tokens (drivers do not sell tickets or tokens). On the subway system, ticket agents can make change and can sell you TTC tickets or tokens that can be used throughout the system. If you plan to use TTC frequently, consider purchasing day passes at considerably reduced rates.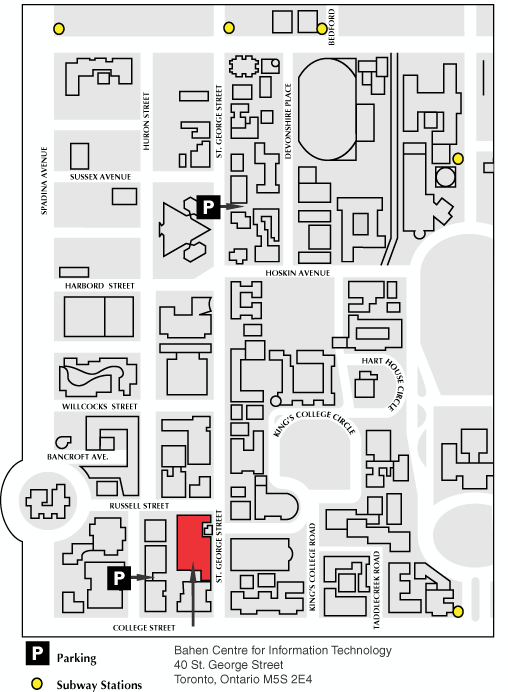 Two streetcars routes bring you close to the Bahen Centre: The College street car, which you can access from any stop on College Street including the subway station at University Ave. or; the Spadina street car which you can access from any stop on Spadina Avenue including the subway station at Spadina and Bloor. From College and St. George it's a 2 minute walk north.
If you want to walk from the subway, the St. George Station has two street exits. Take the St. George one. Walk south along St. George.